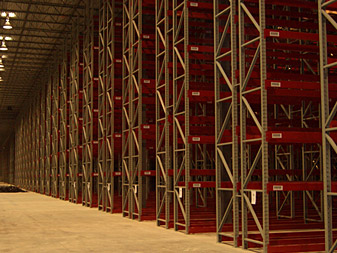 It wasn't long ago that when one referred to a 28,000 lb. capacity end frame they use to be describing a 13 gauge, rolled formed frame. As a common staple to the racking industry, this frame would also typically be about 16 to 24 feet in height and be relatively easy to come by. Today, however; if you were to assume the same, you might be mistaken.
Firstly, in the past 3 to 4 years the industry has become increasingly more sensitive in providing the customer with a more precise solution to address his storage issues. Always wishing to stay just slightly ahead of their competitors, manufacturers have reduced the gauge of their rack frames and increased the welds, bends or both therefore providing increased rigidity and strength. It also stands to reason that a frame's capacity will in large part be determined by how structurally sound the base of the structure is; an issue in large part determined by the height of the first level load beams. It's for this reason lighter gauge rack may often still suffice in achieving the desired capacity objectives of a customer's requirements.
The fact to keep in mind is that whether it be a 13, or 14 gauge steel frame, if the elevation of the first beam level is relatively high, the rack will inevitably be more susceptible to lateral forces than otherwise may be the case and therefore it's capacity will also be that much less.