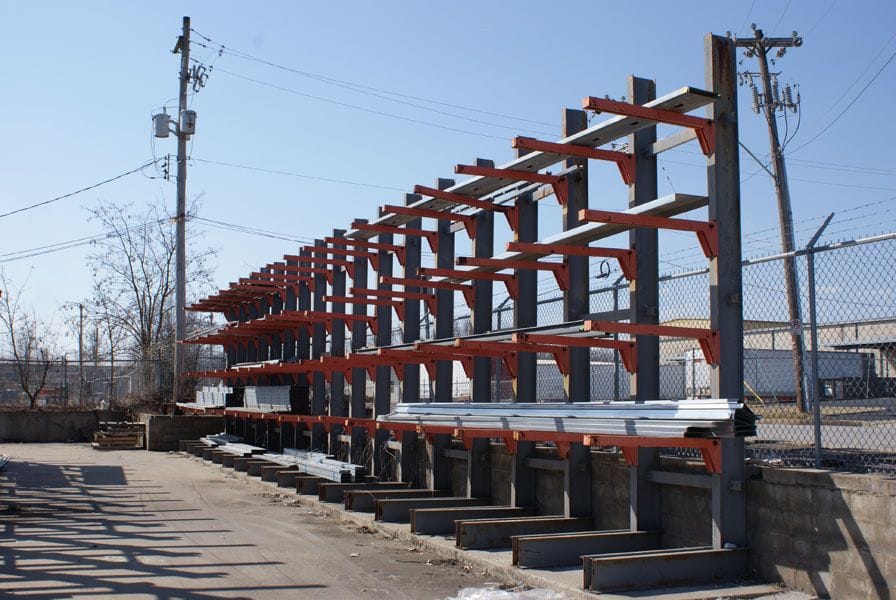 Good question. It depends. What kind of business do you have?
Cantilever racks are what a business needs if their product cannot fit vertically on regular pallet rack. They're great for businesses that have warehouses – like a lumberyard or a manufacturing facility. Often times, companies can have items like sheet metal, drywall, sheet steel, or even flake board as piles on a warehouse floor. Warehouse employees are typically tasked with sorting or organizing items like this, which is often an inefficient use of time and poses a risk of injury. Cantilever racking is great for sorting product by commodity and size and can significantly reduce the likelihood of accidents.
This racking is typically built of structural steel and has been used for the storage of everything from mouldings to pipe. Although it's simplistic design is straightforward from an installation point of view, it's weight does sometimes present a challenge.
When designing a cantilever racking system the key points to keep in mind are the following:
By what means are the loads going to be deposited into the rack and do you have enough aisle space to do so?
What should be the ideal column spacing so that the arms cradle the load effectively?
What is the vertical rise opening per level that would be reasonable to both deposit and retrieve the loads?
Should the arms be straight or slightly inclined so that any loose product will roll towards the center of the rack?
Should the arms have locking pins so that product can't accidentally fall out?
What is the ideal depth of the arms to maintain the loads stored?
Based upon this depth and the chosen column spacing, what is the minimum arm capacity?
Cantilever systems are best tailor designed to the space meant to be installed into, but this, as evidenced above, is also supported by knowing the kinds of materials you're working with.
Prestige Racking & Storage specializes in warehouse, material handling, and storage solutions for businesses. Contact us or request a quote for your commercial shelving and industrial racking needs.