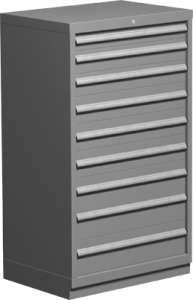 Cabinets come in many shapes and sizes but all can essentially be categorized as either enclosures or drawer cabinets. Enclosure cabinets typically have doors on the front face and shelves of one sort or another internally. The doors or door, may be hinged, roll-up, see through, or fireproof for high valued items, files or documentation.
Because the cabinet market is so vast, it naturally follows that cabinet manufacturers must specialize on different market sectors and/or applications when introducing their product to market. Parts rooms, or stores rooms, although quite varied in appearance and function, share a number of characteristics that many cabinet manufacturers focus in on to better enhance these work environments and better position themselves in the market. The most common or essential characteristics are security, ergonomics, space savings and productivity.
Traditional stores rooms commonly use totes stored on shelves to store the majority of their small parts. Parts are catalogued by either commonality or family grouping and the totes are located by a sequenced code to aid in the storage and retrieval process.
In most stores rooms these totes vary in size but to only a limited degree. This is where modular cabinets have increasingly been recognized as not only a storage medium but also a productivity enhancing work tool. These modular cabinets can provide drawer heights that are perfectly suited to the inventory, and when sub-divided, allow storage of a multitude of SKU's within the same drawer. This improved space utilization can lead to space savings of as much as 70 percent over conventional tote storage. With the reduced travel between pick hits productivity is sure to increase.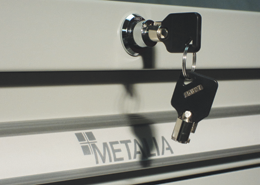 It is simply bonus that security is also enhanced seeing as most such cabinets are also lockable. Metalia Cabinets with their European styling and heavy gauge welded steel construction provide one of the industry's best modular cabinets with approximately 400 lbs. capacity per drawer on full ball bearing sliders. These units come with a lifetime warranty and are also available as a retrofit to your existing shelving system. These cabinets are available in numerous shapes, configurations and colours to meet virtually any stores room requirement.
Prestige Racking & Storage specializes in warehouse, material handling, and storage solutions for businesses. Contact us or request a quote for your commercial shelving and industrial racking needs.