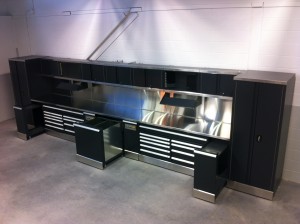 Automotive dealers are increasingly recognizing that quality of service and craftsmanship doesn't simply end with their own offerings. More and more of the car manufacturers have now recognized that their entire dealership is indeed a showroom, and of course, needs to presented as such. Metalia Cabinets has directly addressed these concerns by now offering shop cabinetry specifically designed for the automotive bay floor.
These all welded, powder coated workbenches will stand up to the most abusive conditions and yet still remain as beautiful as the day they were bought for many years to come. The Metalia Royal workstations are built completely modular so that the customer may pick and choose what components are most appropriate for his space and budget requirements. Whether it be tool storage, hoist pneumatics, or simply coverall storage, this cabinetry covers it all.
Prestige Racking & Storage specializes in warehouse, material handling, and storage solutions for businesses. Contact us or request a quote for your commercial shelving and industrial racking needs.